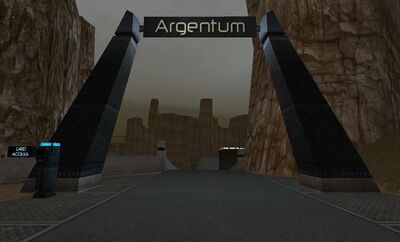 Argentum is westernmost of the four mining towns that make up the area of 4 Holes, along with Ahenus, Aurum, and Chalceus. It has the most buildings of the four towns. A verbal rivalry exists between all four towns over which is the best. Argentum has standard Omni-Tek Archetecture. Argentum is under 25% Suppression Gas
The exact date when Argentum was founded is unknown, and itm like the other 4 towns, may have originally been outzone mines back when Omni-1 was still under construction. It's proximity to both Omni-Tek Territory and area controlled by the Clans has made it an area of frequent disputy for years.
On 30 May, 29480 The Clans,took advantage of the Omni-Tek occupation of Borealis to send unionists in to occupy all of 4 Holes, including Agentum and it's sister towns.
Present Day
Edit
Argentum is still under Unionist Occupation. Omni-Tek has issued a directive to allow full "Open Hostility" against the unionists and anyone supporting them.
Services
Edit
OT Tailor Shop is at (985,1802) labeled "4 Holes Fashion" on the outside.
OT Basic Quality Augmentor has a shop at (902,1745) labed "Tools n Stuff" outside.
Mojo's Weapon Emporium (920, 1625), is shop with an OT Basic Weaponsdealer.
Sights to See
Edit
The Subsea Resort (858,1759) is a open air building with large pool with deck chairs. Nice place for a pool party, if it wasn't for the supression and the weather.
A large toxic lake is at (825,1813)
Personalities
Edit
A large Atrox called the Unionist Foreman wanders around (902, 1704). Omni-Tek personnel have orders to eradicate him on sight.
Another Atrox called Unionist Agitator Scarpase stands outside the Subsea Resort at (828,1766. While not named directly, it is assumed that OT will also reward for his termination.
The exact date of the founding of 4 Holes would be nice.

--Ransan 22:17, 24 March 2007 (CET)
Community content is available under
CC-BY-SA
unless otherwise noted.